Submitted by

Ανώνυμος

on Fri, 01/05/2015 - 19:50
MotoRiders Club gave its presence in this year's National Motorcyclists Meeting at Salanti Ermionidos, 20 kilometers far from Porto Cheli. Our club was represented by Manolis, Sakis, Christos and also a member of our club, Stella (...many of you should know her from her TV appearances at MAD, Saturday and Sunday nights).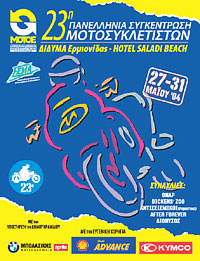 This year's meeting was being described my many as uninspiring ... for many, the main problem was lack of space and especially the lack of a straight line where many skilled drivers could do their demonstration in whilies and endo... Nevertheless, the program included burn-outs, moto-competition, moto-games, musical events with known artists (Lakis Papadopoulos, ONAR and many more) and also many trips around that area.
In general, climate was relatively calm, in relation to the previous times, like many people told us, since they were at the previous national meetings as well. Participants were approximately 2.500, a number quite small. It worths mentioning that most of the participants were from North Greece.
We hope that next time, the event's organizers will take care of the mistakes and the omissions and will organize a better and bigger event next year. We will be there...
Motorcyclists: Sakis, Manolis, Christos
Copilots: Stella
Photos: Manolis, Christos
Written by Manolis
Translation: Vangelis