Submitted by

Ανώνυμος

on Fri, 01/05/2015 - 19:50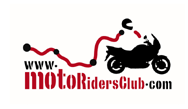 On the 11-13 of November Motoriders club organized its first Pan-Hellenic Meeting for its members and friends. The idea came up this summer and got a great correspondence among the members. In the meeting participated, the members from Athens, Pirgos, Zakinthos and Crete who made the travel in order to meet and spare together grove moments. The meeting took place in Messinia and in particularly near to the village Avramiou. Manolis was there 2 days earlier in order to make the appropriate arrangements. On Friday Christos and Takis arrived, while later on arrived Aris and Anta from Crete who travelled the day before to Piraeus and from there to the meeting place.
Through discussion, the time was passing joyfully. We decided to prepare the table in order to eat all together. At 22:00 o clock in the evening, we started the preparations and Anta made some goodies while Takis and Manolis took on the broil.
At 23:00 o clock in the evening, the 2 members of motoriders.com Nikos and Vangelis arrived. With them also arrived Giannis and Panagiotis with a Yamaha Fazer600. The last is a candidate for the club. At 12:30,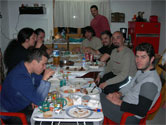 the food was ready and delicious. After we finished our lunch, we sat near the fireplace and we were waiting for Ploumisti, Panos and Monika who left late from Athens since they were working.
At 02:00, they arrived and the first thing they did was to sat near the fireplace. Although the weather was hot, it was cold enough to drive. We stayed there for a while and we gave them a drink from Crete called "raki". Raki was the best drink to stay warm at this point of time. Later on, we slept in order to do a trip in the area the next day. At 11:30 in the morning, we were awaked and we were drinking our coffee enjoying the wonderful sunshine! Unfortunately, Aris was not feeling well and we postponed our trip for Sunday together with Sakis and his friend Maria whom we were expecting on that day. The time passed quickly since we were chatting about many things including motorcycles, trips and personal matters. We started to feel hungry and so we decided to go to Kalamata- a town next to Avramiou- to eat something. Simultaneously we shake hands with Christos who had to leave because of his professional obligations.
Kalamata is found 20km from Avramiou. Nikos knew a good tavern called "To Limeni" which exists at a beautiful marina in Kalamata. The sun was shining helping us to enjoy our meeting. At 16:00, we decided to go back to Avramiou while Takis, Yannis A. and Panagiotis went for a coffee.
When we returned we saw that Aris was fine. They enjoyed the food that we brought them from the tavern, and we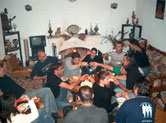 sat there to discuss and drink a coffee, while we were waiting for Sakis and Maria from Athens.
A little later, the rest of the group came from Kalamata. Gradually we start our preparations for the projection of the trip that the club made this summer to Europe. Manolis made a DVD which would be shown for the first time in this meeting. Manolis cousin, George, brought us a DVD player and one TV in order for us to see the presentation. At 22:00, Sakis and Maria arrived along with Ioanna and Constantine who are another two friends of our club.
At 23:00 the presentation started and lasted for one our. At the end of it, all of us wanted to make more trips outside Greece and inside Greece. The girls made some snacks and we enjoyed them near the fireplace with music, chatting and drinking. Everyone was feeling good and the time was passing happily.
Later on, Panagiotis and Monika showed some photos from their journey in Europe this summer making us to feel more ready for another trip. The time was passing by and at 03:00, we decided to sleep in order to wake early next day to make a trip to the greater area of Messinia. We waked up and we observed that the weather was still good. We drunk some coffee and at 12:00 o clock we started our trip. Before the town Pilos we turned right for the Gialova area in order to see the shipwreck that exists there. After that, we went to Pilos to drink a coffee while enjoying the view of its port.
Our Next stop was the castle of Methoni which is 25km away from Pilos. The castle is big enough and each time we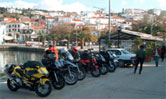 visit it we discover new things about it. This time we enter from its left side something that we propose you to do.
The time was passing and we left for the beautiful town Koroni where we decided to eat. At 16:00, we arrived at Koroni's port and we were looking for a place to eat. Unfortunately, at this time of the year not many taverns were open, however we found one next to the city's lyceum.
This lunch was the last of our meeting since most of the members and friends had to leave for Athens. While eating, we had the chance to discuss our impressions about the meeting and all of us gave a promise for the next meeting. The success of this meeting obliges us to consecrate the Yearly Pan-Hellenic Meeting for friends and members of the Motoriders Club! Finally, we would like to thank George for his help to organize the meeting and for the offer of some great wines. In addition, we would like to thank Anna for her hospitality, who offered her house in order for some members to stay in. In the end, we would like to thank Nikos and Vangelis-members of the motoriders.com- who honoured us with their presence as well as all the members of the Motoriders Club that came to the meeting and contribute to its success.

Personal Impressions:
Member Manolis (Yamaha Fazer600)
Comment: Personally, I would like to thank everyone that helped and gave his or her contribution in order to meet all together and know each other better, fulfilling thus the aim of the meeting. I assume that this success institutes the Yearly Pan-Hellenic Meeting for friends and members of the Motoriders Club while at the same time confirms the friendly character of the club. At last, I would like to thank all the friends and members that they could not come although they tried. Maybe next time…
Motorcyclists: Manolis, Sakis, Panos, Christos, Aris, Ploumisti, Takis, Giannis, Panagiotis, Nikos, Vangelis
Copilots: Ada, Monika, Maria
Photos: Manolis, Takis

Written by Manolis
Translation: Ragas